Quick Start
To use PrControl, you need:
Adobe Premiere Pro CC
A MIDI controller
The PrControl plug-in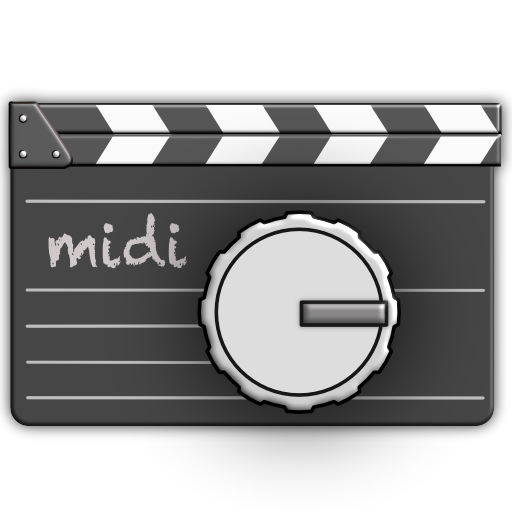 Select a MIDI Controller for PrControl
PrControl works with any midi controller. It works best with a limited selection of controllers that are automatically recognised and configured.
If you do not have a MIDI controller yet, you need to get one before you can use PrControl. PrControl works with the same controllers as the LrControl plug-in for Lightroom.
If you want a recommendation, the Behringer X-Touch is a great choice. It has a timecode display, VU meters and Jog-wheel. If you don't care for the time-display and transport functions, the X-Touch extender can also be used stand-alone. If you like a more compact and affordable controller, get the X-Touch mini.
Download & Install PrControl
Starting PrControl
Connect you MIDI controller to your computer and turn it on.
Then start Adobe Premiere Pro
Open a project. To try out PrControl, you may want to work with a copy of a project or make a new one. Please note that you cannot use the plug-in if no project is open.
Once the project is loaded, open the Control Surface preferences in Premiere Pro. If you already have a plug-in enabled that uses your controller, like an older version of PrControl, or the Mackie plug-in, first remove it. Then click the Add button to add PrControl. Scroll down to see the PrControl plug-in if you do not see it.
Then click the Setup button to open the interface for configuring the controller functions. Remember that you need to return here every time you want to make a change.
You should now see a list with all the MIDI devices you have connected.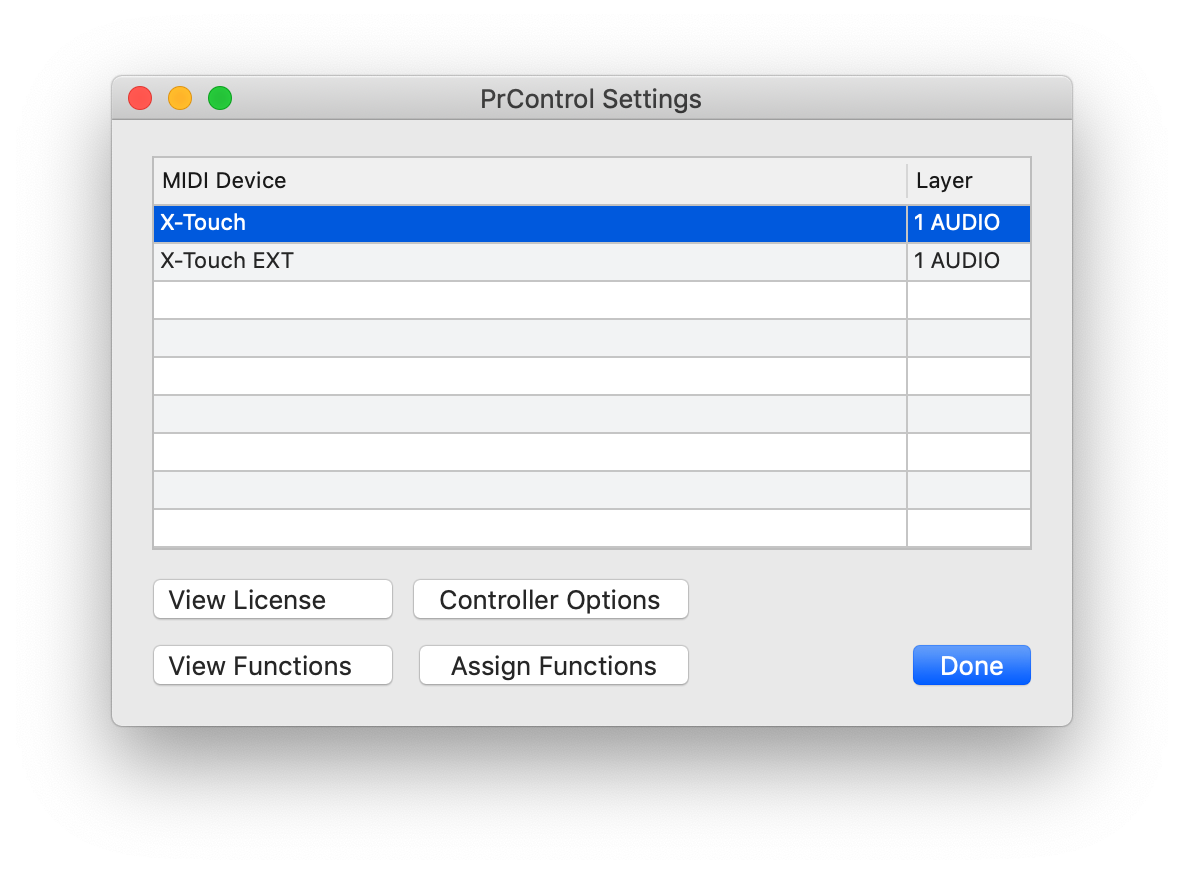 Load PrControl in Premiere Pro
This video shows how to start the PrControl plug-in after you have installed it.
Tutorial Videos
Watch more tutorial videos for PrControl.
Using PrControl
In this section you can find a introduction to using PrControl. An important concept are the layers that PrControl uses to easily switch the controller functions. You can also find how to view and change the controller functions.
Function Layers
With PrControl every control-input or button can have multiple functions. Because MIDI controllers are designed for music production, they are well suited for mixing audio and controlling transport in Premiere Pro. But you can do much more, like controlling lumetri. And you can choose from a large number of commands that can be tied to controller-buttons.
To organise the different functions of controls and buttons, they are grouped into layers. Layer 1 is configured as the layer to use for mixing audio. If your controller has faders, these will control the audio levels of the channels.
The other layers can be used for other functions. As a starting point, the controls in layer 2 are configured to control some lumetri parameters.
The buttons do not have up to 8 layers like the faders and encoders have. Buttons have only two layers. Layer 1 is for audio functions and layer 2 is for other functions, the buttons switch together with the other controls. So if you select layer 1, all controls and buttons switch to layer 1. If you select any other layer, like layer 4 for example, the buttons goto layer 2 and the other controls to layer 4.
Viewing Functions
To see an overview of the currently configured functions for your controller, press the "View Functions" button in the setup dialog.
Switching Layers
You switch layers using buttons on the controller. There are functions to select a layer directly and there are functions to increase or decrease the layer.
The currently selected layer is shown in the setup dialog. And if your controller has LED-buttons, the layer-button will light when the corresponding layer is selected.
Controller Options
If you have a controller that supports the MC-mode protocol, enable that protocol on the controller and set the Controller Mode to MC. If you have an MCU-Pro or X-Touch, the MC mode is used automatically, leave the mode set to Default.
The Import and Export Configuration buttons can be used to backup and restore your configuration. Or to take your configuration to another computer.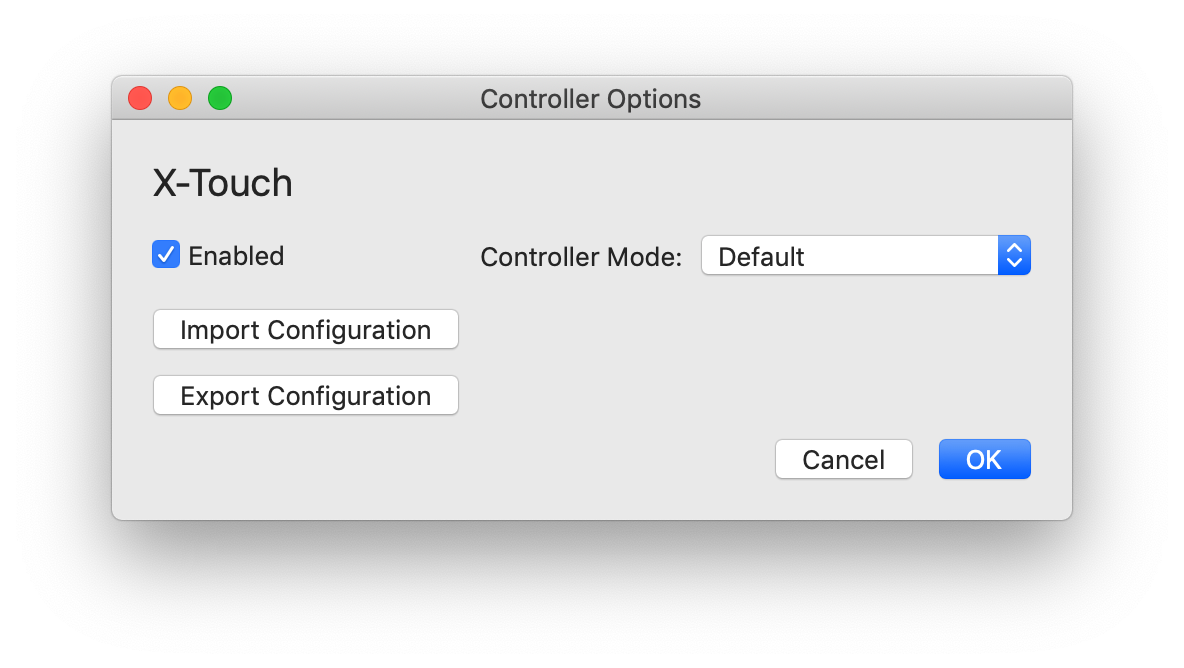 Assign Controller Functions
Click the View Functions Button in the setup. Use this dialog to adjust the functions of your controller.
Start with operating the control you would like to change, it will appear in the left panel. Then select the function to assign to it in the right panel. To find a particular function, use the search-box at the top.
Note that while known controllers are pre-configured with layer 1 for audio mixing, you are completely free to configure the controller how you see fit. You can have audio and lumetri functions in the same layer and functions can appear in multiple layers. However it is not recommended to have multiple controls with the same function in the same layer.
Layers
When you assign functions to controls, you always work in the currently selected layer. To start with a new layer, you must first assign a function to switch to that layer in the current layer. For example, to start working on layer 2, assign the "Select Layer 2" function to a button.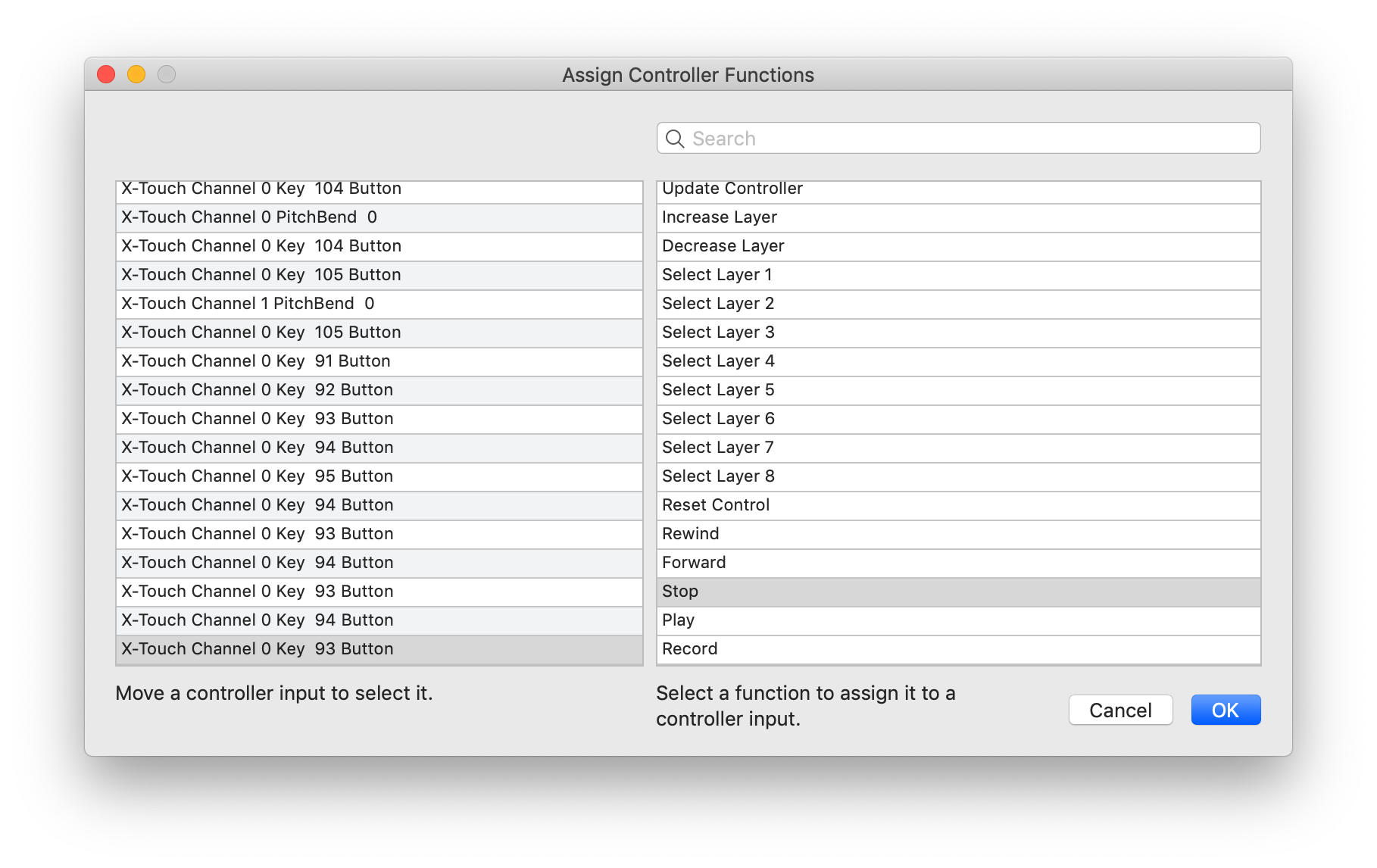 License and Trial Mode
You are free to try out PrControl. Each time the plug-in is loaded a new 20 minute trial-session is started. After 20 minutes the plug-in stops working. You can then purchase and enter a license code, or start another trial session.
The price of one license is €49.99 including VAT. The license can be used by you on any of your computers. If you have multiple people using PrControl, every individual must use a separate license. If you use both Mac and Windows, purchase a license for the system you want to use first, then send an email to get the license for the other platform free of charge.
The Buy button in the PrControl license dialog will take you to the store page. You are encouraged to try out PrControl before purchasing a license.
---