Full Screen Viewing
You get your photos full-screen. Instantly.
InstaView is made to show your images instantly, with no set-up. You open a folder with images and InstaView shows them full-screen with no delay.
And you can do the same thing with videos, or mix photos and videos.
InstaView DEMO
If you want to try out InstaView, download the demo. The demo is fully functional. It shows reminders to get InstaView on the App Store.
InstaView License
You can get InstaView from the App Store. But you can also can purchase a license. The purchased license is linked to your email address. If you need multiple seats you can change the quantity during checkout.
---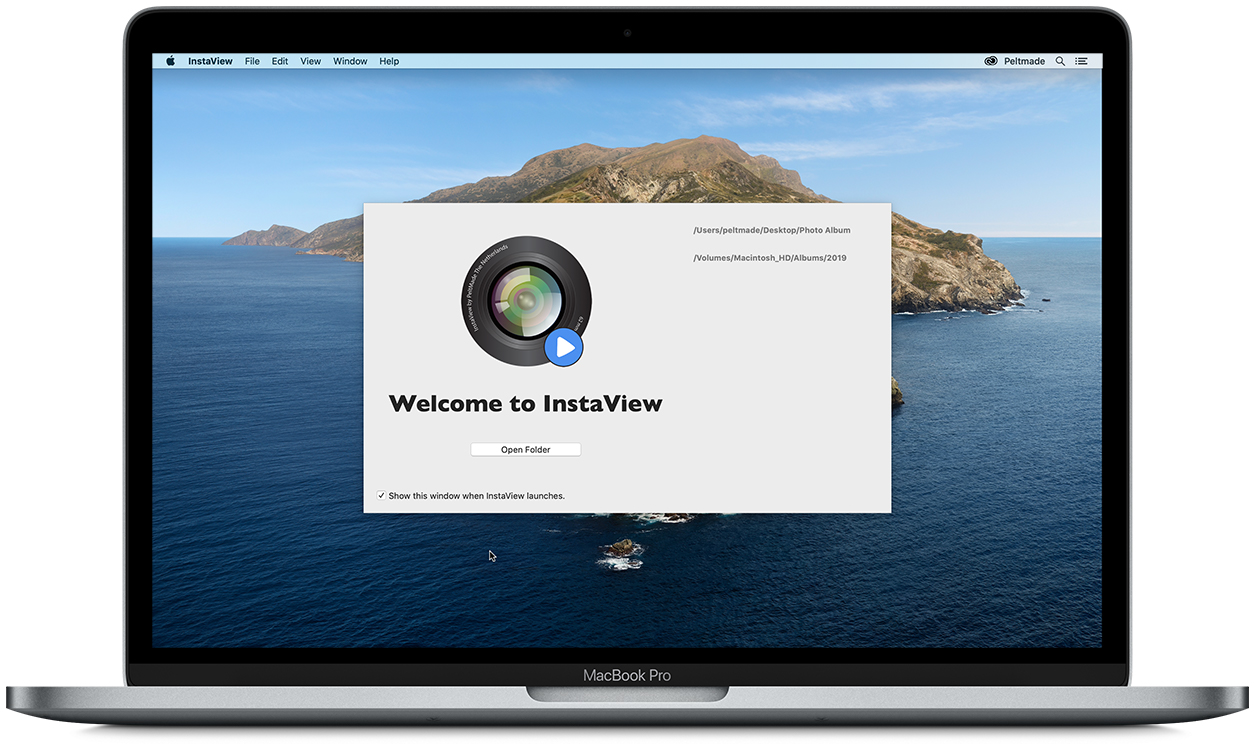 Welcome Screen
If you launch InstaView, you will get the welcome screen. You open a recent folder to full-screen with one click. When you drop photos or folders on the InstaView icon, the welcome screen is skipped and you go to full-screen directly.
View Video
InstaView also shows video. With InstaView you can show any number of videos and have them played back in sequence and repeat, if you want. Movies start automatically and play to the end, then the next video or photo is shown. Of course you can also skip to the end. And you can mix videos and photos as you please.
Startup Options
You can let InstaView open the last used folder at startup and if you combine that with automatic playback, you can easily setup your Mac to start playing movies and showing photos automatically when you start-up the computer. For an exhibition or a shopping window for example. Or maybe you sell TV's, displays or iMacs. You can show any combination of still images and video footage. Read more..
Live Updating Slideshows
With InstaView you can create a live slideshow that shows photos as you make them.
When you open a folder in InstaView, it keeps watching this folder for changes. So if you can send your photos from your camera to your Mac, InstaView can show them as they arrive. This if great for weddings and other events where you want to show photos as they are taken. .Read more..
More Features
A list of features and controls can be found in the InstaView Guide
InstaView History
InstaView started out with a different name. Back in 2000, I had my first digital camera and I wanted to show my photos on my Mac. I could not find any application I liked, so I decided to make something myself. I always thought Toucans fascinating birds, I got a book about the adventures of a Toucan as a child,Two Can Toucan , so I named my photo-viewing application Toucan.
I started selling Toucan as shareware. And over the years I got lots of requests from customers to add more functionality.
In 2010 I started Toucan 2.0, a complete rewrite optimized for macOS. But I did use a lot of ideas from the old version and implemented most features.
And in 2015 I renamed Toucan to InstaView. And it went to the Mac App Store and has been available there since then. I still get occasional requests for new features. And they are always welcome!